A-Level Results 2019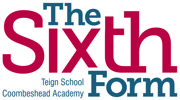 Students and staff at Education South West secondary schools, Teign School and Coombeshead Academy are once again celebrating an excellent set of A level examination results.
Coombeshead Academy celebrate another year of fantastic post – 16 results
Coombeshead Academy is once again celebrating an exceptional set of post-16 results. As part of Education South West and the Templar Sixth Form, in partnership with Teign School, the academy offers a wide range of level 3 pathways resulting in pupils accessing grades at in both A' level and equivalent subjects.
This year pupils have achieved great individual success, contributing to increased performance as a school on all measures in comparison to last years results that were above the national average. Consequently, we are delighted to see pupils achieve a place in further education, employment and training and wish them well in the next chapter of their lives.
65% of grades awarded were at A*-B with 87% achieving a C grade or better. All at Coombeshead Academy are incredibly proud of the achievements of the Sixth Form pupils. Their hard work and determination has resulted in some stunning results, and bright futures to look forward to. It is important also that we thank both their teachers and parents for the support and encouragement they have received on their journey towards this success. Many of our pupils are now looking forward to joining a wide range of university degree courses, ranging from Medicine to teaching, Classics and Sports Science. With further opportunities available for those pupils who are entering the world of work and higher-level apprenticeships.
Andrew Hulbert, Headteacher, said "I am delighted for all of the pupils receiving results this year. The year 13 cohort have been a pleasure to have at the school and are a clear demonstration of what hard work and commitment can achieve. The results are truly stunning, and I would like to wish all pupils every success in their future endeavours"
Jackie Druiff, Director of Sixth form said, " I'm absolutely thrilled for all of our students who have worked so hard to achieve this success. The dedication of our teaching and support staff, as well as the encouragement from parents, has paid off with an outstanding set of results."